Welcome to the Redungeon Wikia!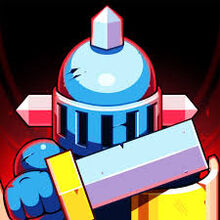 Redungeon is a iOS/Android game created by Eneminds and published by Nitrome. It has been available internationally for free since its release on 22 June 2016.
• Endless, random, increasingly difficult dungeons.
• Dozens of complex traps carefully designed to stop you.
• 11 unlockable characters, each with unique game-changing skills!
• Great music by Dave Cowen, the composer behind Leap Day and Rust Bucket.
• Lots of angry, colourful pixels (and a few friendly ones).
• Swipe controls or on-screen buttons.
Redungeon
Edit
Redungeon is an endless game, it has traps, enemies and coins which you can use to buy characters and upgrade them later. It's a very addicting game which deserves the attention. And with the updates coming who knows what will Redungeon brings to us next.